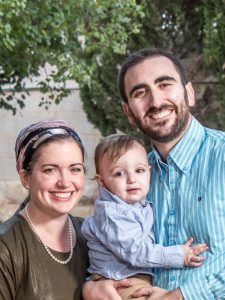 Rabbi Jon and Orly Singer are extremely excited to be joining the University of Chicago family in the fall of 2018! Along with their son Matan, they can't wait to help continue to build the amazing community along with the students on campus!
Rabbi Jon Singer was born and raised in Toronto and like any good Canadian, he grew up playing hockey, loving maple syrup and praying for the winter to end. After high school, Rabbi Singer attended Yeshivat Shvilei Hatorah for two years, where his love of Israel and Torah grew such that he decided to make Aliyah and continue learning. Upon becoming an Israeli citizen, Rabbi Singer joined the Hesder program at Yeshivat Har Etzion. He would go on to serve in the Nachal Brigade in the Israeli army and upon his return to Har Etzion he joined the halacha kollel and became a madrich for overseas students.
Rabbi Singer holds a degree in Economics and Biotechnology from Hebrew University and has worked in the high tech industry, for the Weizmann Institute and for an accounting firm, all while continuing to learn daf yomi (nearly six years and counting!). In his free time, he enjoys reading Israeli military history, playing basketball, listening to podcasts on big ideas and playing Devil's advocate on nearly any topic.
Orly Singer was born in the great city of Chicago and made Aliyah at ten years old along with her family. She has long since forgotten what the cold weather is like but is excited to experience it once again. After high school, Orly completed two years of national service: one in a home for at-risk youth and the second as a madricha in Midreshet Yeud. She subsequently attended Midreshet Migdal Oz for a year where she developed her love for learning and addressing challenging questions.
Growing up in a house that was deeply involved with Bnei Akiva, she has worked on several educational programs where she continued to enhance her love for Judaism and Israel. She holds a B.A and an M.A in Psychology, loves working with people and has worked with a variety of patients in mental health institutions. Orly has always enjoyed listening to music and singing, playing basketball, spending time with family and friends and would never say no to a good steak.